Member Activity
About Water.org
The water crisis is huge and impacts billions of people every single day. Women spend over 200 million hours a day collecting water for their families. Over two billion people lack access to a toilet. We can make an impact in our lifetime.
Beema and her family live in a village in Tirunelveli, a city in the south Indian state of Tamil Nadu. Water sourced from the Tamirabarani River is provided by the municipality here, however Beema must walk several blocks to a public source to collect water each day. Her wait at ...
Sabina is a mother and a farmer in Kenya. Through Water.org she has a rain catchment tank on her property, a solution that has changed the way of life for her family.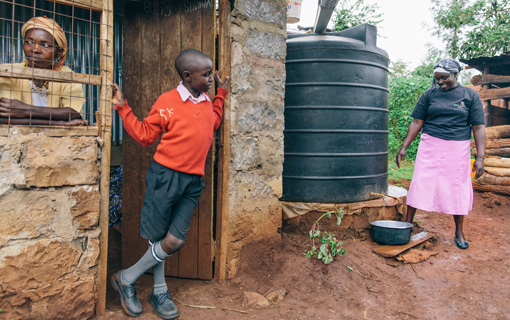 Sabina, a plantain and cow farmer, has recently installed a rain catchment tank on her property in ...
Recently two of TEAM.Water.org's active members, LB Hetherington and Cristiano Bonino of Punto Tours, road the beautiful Majorca, Spain. Together they logged 400 miles in less than seven days at an elevation of 30K feet on the Mediterranean island. While this may seem daunting to some, according to LB, "The riding on this tour was spectacular. Mountains surrounded by clear blue waters in 70 degree weather kept me engaged and moving. Cristiano was a wonderful tour guide and the ride was one of the best I've done in my 40 years of cycling."
As the two rode they shared stories about their lives and their passion for helping to solve the global water crisis. Cristiano, an Italian cyclist of more than 15 years, talked about the times he cycled and donated $1 to Water.org for every bottle of water he drank en route. And LB shared his support of Water.org because for him, giving people access to safe water is a cause he supports whole-heartedly.
The guys look forward to another ride tour through Majorca. Punto Tours has already agreed to give a percentage of the tour fees to Water.org. LB and Cristiano believe this once-in-a-lifetime ride experience will not only change the lives of the riders, but will also change the lives of those in need of safe water. Stay tuned to the TEAM.Water.org newsletter for details about the next potential ride through Majorca, Spain with Punto Tours to support Water.org.